Marine litter is recognized as a global problem. Reducing marine litter is a key action for the achievement of United Nations Sustainable Development Goal 14, to conserve and sustainably use the oceans, seas and marine resources for sustainable development. In the Union, 80 to 85 % of marine litter, measured as beach litter counts, is plastic. Single-use plastic items representing 50 % of the total.
The use of plastic in food packaging has increased significantly in recent years due to practical and economic reasons,. But as the packaging products are commonly short-term applications (single use), they ultimately represent a big source of plastic wastes.
As food packaging fulfils very important functions, since they prevent physical, chemical and/or microbiological contamination, as well as possible adulteration, thus avoiding the loss of product's quality, the food industry is looking to suppliers for eco-optimal plastic packaging and sustainable solutions. In this regard, the production and use of bio-based and biodegradable polymers is currently increasing in the food and cosmetic packaging sector. In 2017, over 50% of bioplastics were produced in Asia. Around one fifth of the global bioplastics production capacity is located in Europe, mainly based on innovative biopolymers such as PLA (Polylactic acid) and PHAs (polyhydroxyalkanoates) which are the main drivers of this growth in the field of bio-based and biodegradable plastics.
The seafood processing industry produces waste that represent a potentially large environmental hazard. Usually seafood wastes are thrown away at the sea, burned, landfilled or simply left to spoil. Crustaceans' shells constitute the 75% of the total weight of crustaceans and are the main source of chitin. The extraction of chitin from shrimps, crab shells, squid feathers may be a way to minimize the waste and to produce valuable compounds.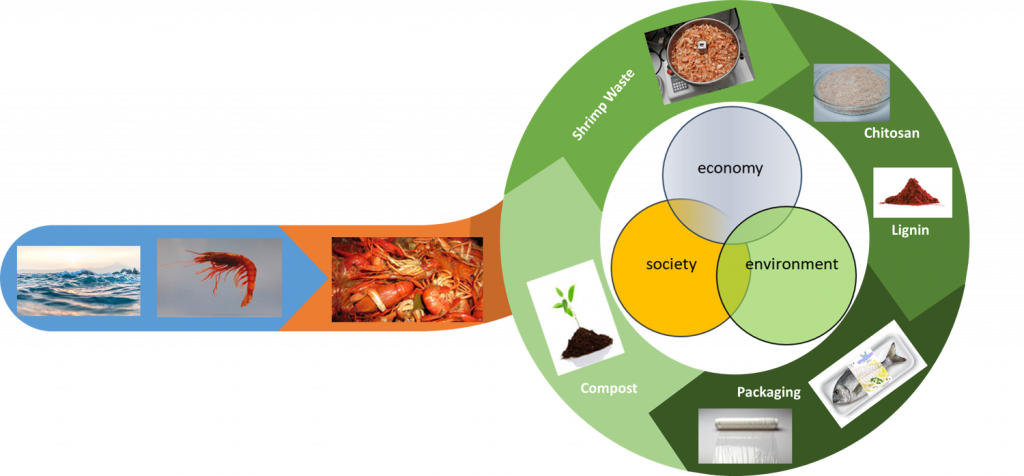 The aim of the FISH4FISH project is to obtain a low cost innovative, active and sustainable material to be exploited for the industrial applications of fish packaging. The project will leverage on the enormous biotechnological potential (prebiotic activity, antioxidant and antimicrobial properties) of the chitosan and above all chito-oligosaccharides.